Best (Eye & General) Ayurvedic Hospital in Jaipur, India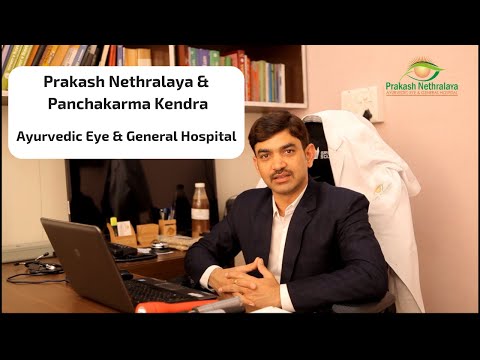 Prakash Nethralaya and Panchakarma Kendra is an Ayurvedic eye and general hospital in the pink city Jaipur, Rajasthan since the year 2009. The hospital offers Ayurvedic consultations, ayurvedic medicines and panchakarma treatments for various eye and general body diseases. Patients from different states of India and many countries around the globe visit Prakash Nethralaya and Panchakarma Kendra for Ayurvedic treatment of their diseases. Dr. Dinesh Sharma who is a famous Ayurvedic eye specialist and founder of Prakash Nethralaya guides the team with his holistic approach towards the disease and its natural Ayurvedic treatment. Years of experience, scientific modern research, and quality services make it a trustworthy Ayurvedic eye and general hospital. The hospital also offers various Ayurvedic training courses for doctors. It does include many online as well as in house training programs.
More Than 50,000 Patients Trust Over The Globe
Ayurvedic Eye Treatment
Ayurveda believes that the disease in the body is caused by an imbalance of the three basic physiological factors called doshas. Hence, the Ayurvedic eye treatment also aims to maintain the balance of three doshas by several means. The major Ayurvedic treatment procedures are Tharpana, Nethradhara, Anjanam, Aschotanam, Nasya, Virechana, Shirodhara, Shirovasti, Pindi and Vidalaka. Along with these procedures, Nourishing Ayurveda medicines strengthen the complete system of the eye starting from cornea to lens, retina and optic nerves. Likewise, the effective and complete cure of the eye disease is established.
Panchakarma
Panchakarma is a combination of five purificatory procedures designed to purify the body at the cellular level. Ayurveda believes that the human body accumulates toxins because of our odd eating habits, stress and other disturbances in our lifestyle. Panchakarma is the permanent removal of these toxins from the body and hence the disease is eradicated permanently. Vamana, Virechana, Anuvasan Vasti, Asthapan Vasti, and Nasya are the five Panchakarma procedures. There are many preoperative and postoperative procedures like body massage, steam bath, Potali Patra Sweda, Shirovasti and others which are done along with the main panchakarma. This is a very powerful way of treatment and it has the potential to treat many of the dreadful diseases of modern life like rheumatoid arthritis, paralysis, migraine, slip disc, skin diseases like psoriasis and leucoderma, obesity and menstrual problems.
Success Stories of Ayurveda
Thousands have experienced relief after treatment at Prakash Nethralaya